That's pretty much what Brian Ross and Richard Esposito want you to think:

U.S. gun stores and gun shows are the source of more than 90 percent of the weapons being used by Mexico's ruthless drug cartels, according to U.S. and Mexican law enforcement officials.
The story is headlined asking the question,
Is the Second Amendment to blame?

U.S. efforts to stop the smuggling of tens of thousands of guns to Mexico, including high-powered assault weapons, have been hampered by lenient American gun laws...
Are you f#cking kidding me?
Ya think that gaping hole in our southern border might have sumthin' to do with it? What about the war on drugs; it's been raging for what, 30+ years, we surely got to have a handle on that by now, huh?

Nahh. Couldn't be those. It's the lack of gun control, we need more of it, because it works so well.

The BATFE would never lie to us either, they're the sole bureaucracy intent on solving the
problem so they won't need to work anymore.

Don't worry about them though, once the gun thing is solved, BATFE will fix the border security thing:

"It sure shows a lack of concern on our part for this piece of the problem," said Sen. Jeff Bingaman, D-N.M., who has introduced legislation to give the ATF an additional $15 million to improve border efforts.
Heh
: Check out the accompanying picture: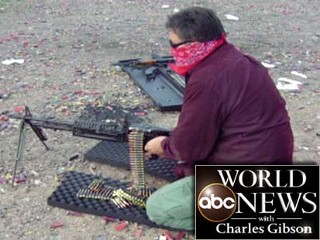 Fully auto M60, complete with red bandanna for effect.
In America, gangbangers can just walk into gun shops and load up on M60s willy nilly.
-Brian Ross, super objectively unbiased special ABC News investigative reporter, on the evil guns, and their evil distributors.
Here's video
. A lot of sensationalized crap. Not a word about the laxity of
border security
.
Update
:
Confederate Yankee
,
STACLU
, and
Say Uncle
have more.