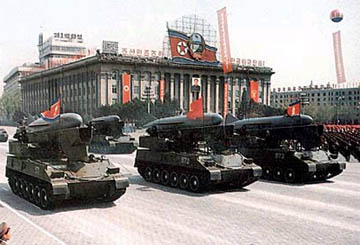 *New Update below for October 10th*

Just heard it on Drudge...

North Korea has successfully tested a nuclear weapon.
This reportedly coming from South Korean intelligence.

*UPDATE*
Found this from the AP:
North Korea said Monday it has performed its first-ever nuclear weapons test. The country's official Korean Central News Agency said the test was performed and there was no radioactive leakage from the site.

"The nuclear test is a historic event that brought happiness to the our military and people," KCNA said.

What does this mean for East Asia? What does it mean for the United States?
Well, North Korea had just achieved what they longed for: attention. But because they have a nuke, doesn't mean the rest of the world should acquiesce to their wishes, like accepting direct two-party talks.
Japan is likely to change their constitution -build a deterrent, a nuclear deterrent and a military deterrent.
*UPDATE*

Bill Gertz, the guest on
Drudge
, pretty much agreed with me on Japan, and also says this emboldens other rogue regimes and their pursuit to acquire nuclear weapons.
*UPDATE*
Asian Markets falling...

Was the nuke test a bluff -no seismic activity found??
It will be interesting to see how the future UN Secretary General, S. Korean Ban Ki-Moon will react, and potentially handle his northern neighbor.
*UPDATE*
(8:45 PST)
Found an updated
report from the AP
, here are some exerpts:
...U.S. and South Korean officials could not immediately confirm the report.

Japanese Prime Minister Shinzo Abe said information still needed to be analyzed to determine whether North Korea truly conducted the test.

The North's official Korean Central News Agency said the underground test was performed successfully and there was no radioactive leakage from the site...

"We don't know whether it is a nuclear test or not," an official at the earthquake center at the Korea Institute of Geoscience and Mineral Resources said on condition of anonymity, citing the sensitive nature of the issue.

The U.S. Geological Survey said it had detected no seismic activity in North Korea, although it was not clear whether a blast would be strong enough for its sensors...
I think it's more than likely they performed a test. Besides I don't think the USGS has a station in Japan or South Korea. And wouldn't it would take a while for a relatively small amount of seismic activity to show up on a seismometer in Hawaii?
*UPDATE*
(9:00pm PST)
According to Fox News (radio -no link yet), a White House official has confirmed that North Korea did perform a nuclear weapon test.
USGS to hold a press conference... I think they will confirm.
Update within an update: A bunch more reports found via Google News, including
this story
:
South Korean President Roh Moo-hyun immediately called an emergency meeting of security officals because of what the foreign ministry said was "a grave change in the situation involving the North's nuclear activity." ...

"The government has received a report that there was a tremor of 3.58 sensed from North Korea's northern Hamkyong province at 10:36am," Choo Kyu-Ho said.

*UPDATE*
Many bloggers covering this, including
Allahpundit
, lots of info, including this seismic chart from USGS. I guess it doesn't take too long for seismic waves to travel, I remember geology 101 now:
Allah makes an interesting observation,
"I question the timing: New Japanese PM Shinzo Abe is in Seoul right now for
pre-planned talks
."
*A final update for tonight:
Allahpundit must have three televisions on, a few radios, while serving the latest from the web. A lot of other bloggers are on it as well. I can't keep up, there's a lot of new information minute after minute, but it has been confirmed plenty enough. North Korea conducted a nuclear test.
I can predict the reactions: the international community "deeply concerned," perhaps outraged. Speculation of war, new talks, military buildup throughout East Asia. Not to forget threats of UN sanctions, as if starving the country would change the lunatic mind of the rich and well-fed Kim Jong Il.
We can't put North Korea on the backburner any longer, nor should we give them the attention they desire nor butter them up with face-saving incentives, just so they can screw us later.
We can't really play Cold War policy now either, China is not exactly cooperative. Containment won't work with a lunatic in a world threatened by terrorism.
We would be fooling ourselves if we think North Korea would negotiate away their influence-wielding nuclear weapons and nuclear programs. Unless we can get China and Russia on board to actively help us much more than what they've been doing, perhaps we can wait until North Korea collapses as did the Soviet Union. This means zero international aid, which would not go to the starving children, but straight into the pockets of corrupt communists. We would have to starve North Korea without antagonizing them. Our refusal to help North Korea should be set in stone -made clear to North Korea that is our position. Hence denying Kim Jong Il reason to believe our failure to aid them in any way is incitement or an act of aggression.
Let's be honest, nuclear war is now more a probability than a possibility. It may come to that.
Ok, one more update:
This is where the siesmic activity (nuke test) took place according to the USGS:
Some are wondering if this was a fake, just thousands of tons of conventional explosives piled up to give a seismic signature of a nuclear weapon. I seriously doubt this. It would take not only thousands of tons of strong conventional explosives, but concentrated into a small space, exploding simultaneously right next to a fault line to give such an effect. It was a 4.2 on the richter scale, that is a typical earthquake, or an underground nuclear blast.
Final update, really:
From the WaPo, war is
on the brink
:
It was also set to bring Pyongyang's four-year standoff with Washington over its nuclear programs to a head. U.S. intelligence sources said the Bush administration is talking about immediate naval action around North Korea. "This won't exactly be a blockade, which is an act of war. But we could stop and inspect all ships in and out of North Korea," one senior US government official said.

U.S. officials had braced for the test Sunday after they received an early warning from China, sources said. The Chinese government told U.S. officials late Sunday that Pyongyang had informed Beijing that a test would take place at about 10 p.m. EST.
War? Maybe. JFK ordered this type of "blockade" during the Cuban missile crisis, though not calling it a blockade, it is in essence a blockade. Kennedy called it a "quarantine." We may go to war, we may end this in 14 days like Cuba, or watch it collapse in 60 years like the Soviet Union. Either way, war is increasingly probable.
And the
Aussies already calling for sanctions
:
Australia plans to lobby the United Nations Security Council to take "swift and effective" action against North Korea and will "advocate a UN Security Council regime against the DPRK (North Korea) which includes targeted financial and travel sanctions, other trade restrictions and or aviation restrictions," Mr Howard told parliament.

*UPDATE*
(Oct. 10) Test was not nuclear. Details unclear. Read for yourself:
From
Bill Gertz at the Washington Times:
U.S. officials, speaking on the condition of anonymity, said that seismic readings show that the conventional high explosives used to create a chain reaction in a plutonium-based device went off, but that the blast's readings were shy of a typical nuclear detonation.
"We're still evaluating the data, and as more data comes in, we hope to develop a clearer picture," said one official familiar with intelligence reports.
And from
Michael Yon
:
A very well-placed government source told me Tuesday afternoon that the North Korean explosion was non-nuclear. The explosion may have been an actual nuclear test — this is unknown — but the source reports the outcome was non-nuclear...

...the test may have been by or for the Iranians. (via Allahpundit)

Perhaps it was for and/or from Iran. Check out this from
the Asia Times
:
On Friday, a London meeting of the foreign ministers of the UN's permanent five plus Germany (P5+1 - the United States, China, France, the United Kingdom and Russia) failed to yield any results. An Iranian Foreign Ministry spokesman categorically rejected the notion of an even temporary suspension of uranium-enrichment activities,

a position now easier to defend after North Korea's test

on Monday.

With Russia expressing strong reservations over imposing any sanctions on Iran,

the Security Council now is even less prepared to tackle the Iran issue, given the urgency of the North Korea crisis

. Diplomatically, then, the North Korea crisis must be considered a timely boon for Iran, particularly if the Security Council does not impose punitive counter-measures against Pyongyang. [emphasis added]
We can't afford to play games and continually devour bait. North Korea does require carefully placed attention, but Iran shouldn't be overlooked in the slightest. In fact, this should intensify our focus on Iran. Remember the Hezbollah/Israel conflict just a few months ago, and now this. Both point to Iran. Perhaps the creation of smoke and chaos is how the Iranians plan to achieve a nuclear advantage. Expect more smoke.